Affordable Housing
Dhaka, Bangladesh
The project is part of 'Build Bangladesh', a public-private partnership effort to accelerate economic opportunities and bring inclusivity to a broader segment of society. Our proposal targets lower-income communities to provide a design that centers around human interaction, one that fosters a strong sense of community.

The massing arrangement—two linear volumes separated by public open space is both a response to site and regulatory constraints and a desire to create a socially and environmentally sustainable environment. The lower volume faces the prevailing wind to help permit more air into the space. The two-building masses are connected with a network of circulation systems turned inside out, allowing all units to be naturally cross-ventilated.

The exterior corridors are linked with bridges that cross the courtyard space below. This arrangement creates a continuous path with multiple navigation options on three axes—additionally, the bridges are placed to maximize visibility, affors dramatic vistas, and create a dramatic cascading effect. Starting with a generously proportioned set of steps, this network of bridges and exterior corridors is dotted with several shared spaces and amenities, renderingthe entire building is animated and conducive to social interactions.

Critical to maximizing natural ventilation for cooling along with shading, a strategy of permeability at different scales characterizes spaces and surfaces throughout the building. At ground level, the building mass comprises pavilions separated by distances, allowing shaded in-between spaces and room for wind to permeate the courtyard. Furthermore, a gap at the upper level provides a shared space and funnels wind into the heart of the building. At the same time, vegetation placement on all floors helps with moderating temperatures.

To provide privacy and shading, screens utilizing traditional building methodologies cover surfaces throughout, at times providing a sensual interplay of light and shadow. Screens are also a means to create semi-private spaces. The overlap of these spaces and their qualities as one traverses them provides a singular and memorable experience throughout this building.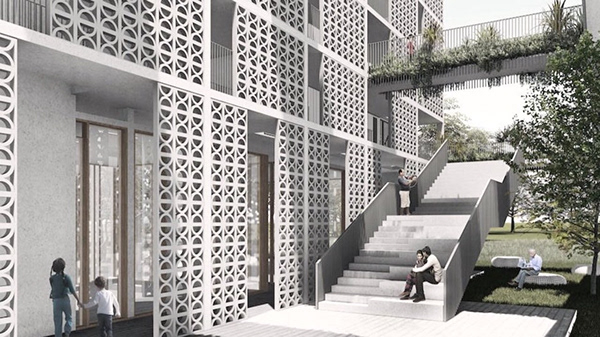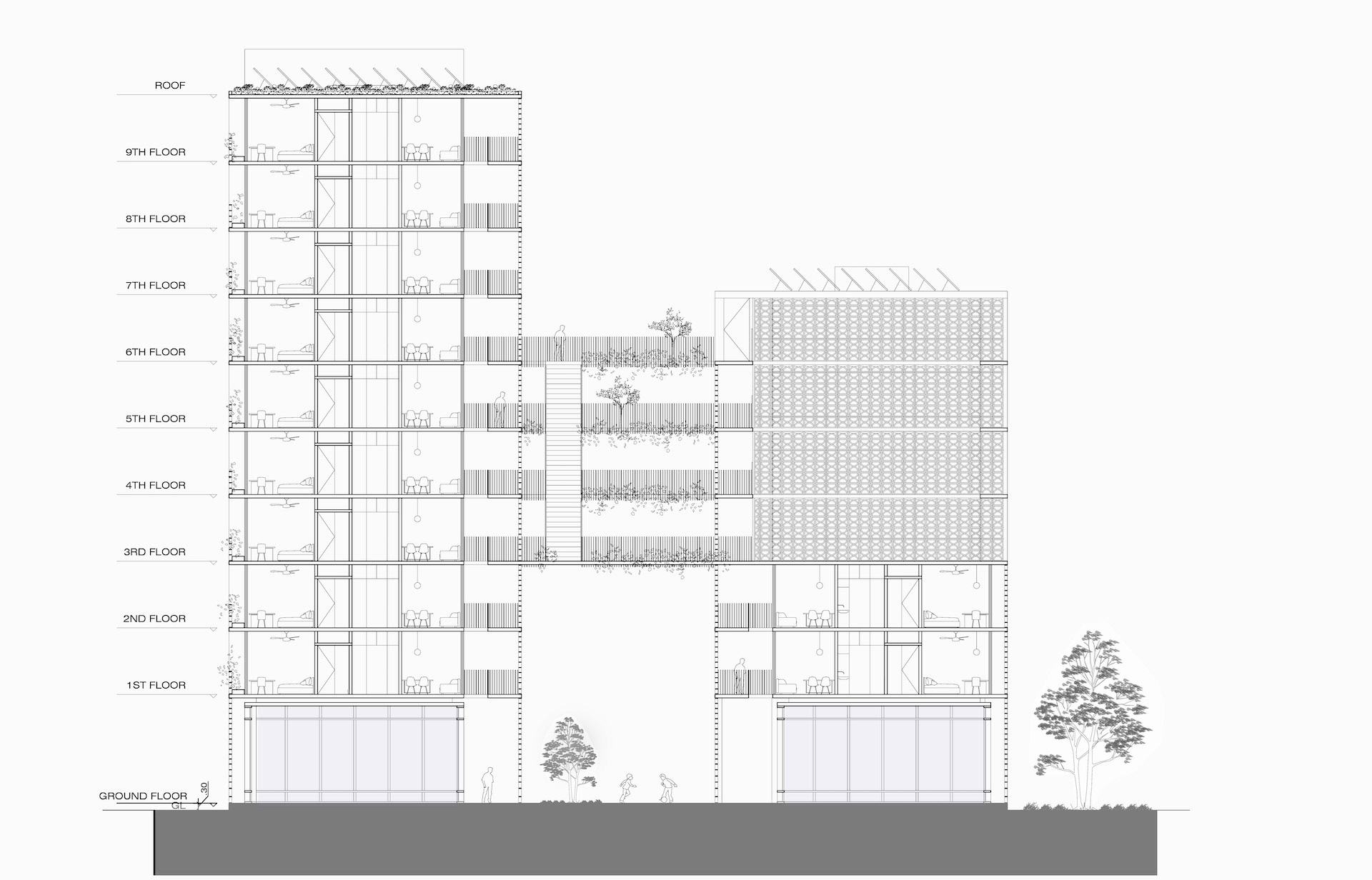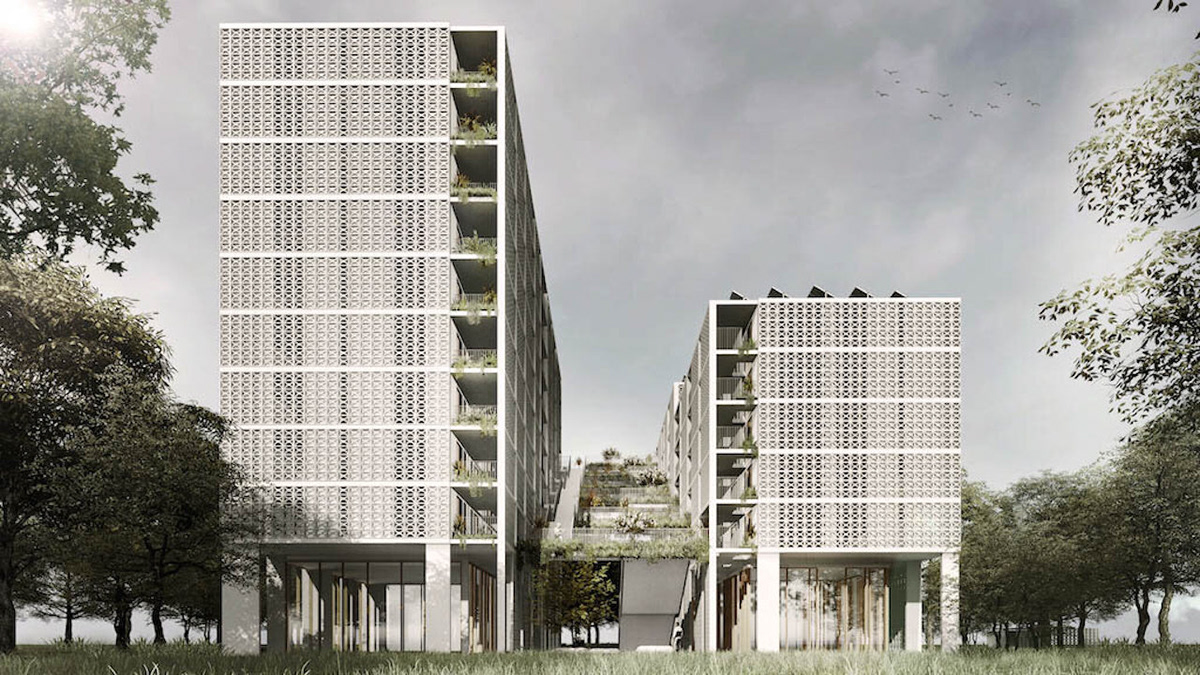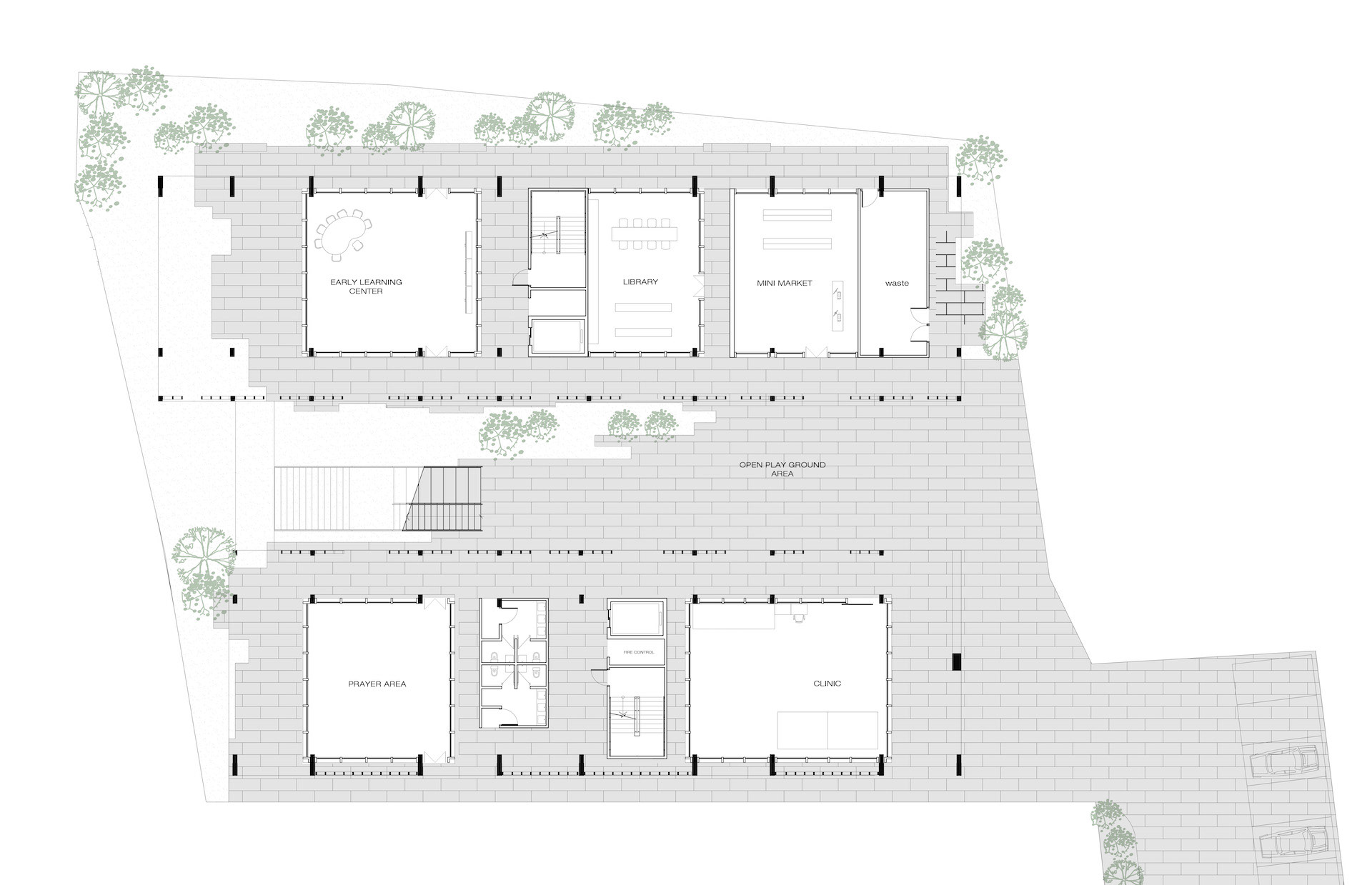 ____

Program: Affordable Housing for Lower Middle Income Group. One Bedroom units and 2 Bedroom units. Support facilities: gym, library, lounge and party room, multi-purpose hall. Early childhood centre. Exterior play area. Above grade parking.
Client: Build Bangladesh/Impress Group.
Location: Dholpur, Savar, Dhaka, Bangladesh.
Site area: 2663 sq.m. Max allowable coverage 57.5 % Maximum FAR 4.35
Design Architect: Hout Architecure Inc. Key personal: Samer Hout Design and Project Lead. Mariana Duarte. Local (Dhaka) Executive Architect: Exceptions, Key Personal: Akter Ul Azim Project Lead. Shafkat Noor, Mithun Nath.