Bangladesh Energy Regulatory Commision (BERC)
Office and mixed-use
The BERC Headquarters in Dhaka is located in the Sher-e-Bangla Nagar area, along a canal running in the east-west direction, connecting it to Louis Kahn's National Parliament House. The design strategy combines a singular expression with passive techniques to mitigate energy consumption.
The design of the building strives to weave influences and overlapping programs, mitigating extreme climate conditions as it crafts a pleasant and sustainable environment within. Furthermore, the particular expression of the architecture seeks to echo the local context and builds upon an established modern architectural heritage of public buildings in Dhaka.

The slim rectangular footprint of the building is a consequence of a constraint site along the canal. A strategy combining shades, vegetation, passive-air circulation and water harvesting is employed to mitigate the massive heat gain. Precast concrete planters shaped as inverted arches collect water and allow lush greenery to thrive. Thin vertical members provide sunscreen as well as backing for climbing vegetation. The inverted arches are modulated in sizes and positioned rhythmically to echo the water flow in the canal. Simultaneously, they hint at elements in the nearby National Parliament House. A gap between the planters and the envelope allows air circulation between the lush green layer and the envelope, moving cooler, clean air up the facade and into the building, turning the entire west elevation into a giant filter for air and light. Inside, the inverted arches of the planters form an undulating ceiling over public spaces. Occasionally, interconnected floors are created at both the south and the north ends of the building, creating public rooms of distinct formal qualities.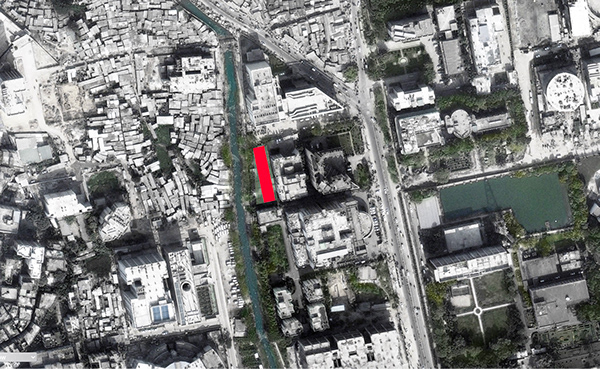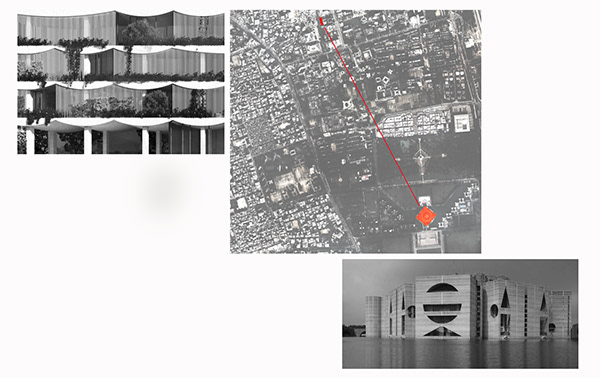 Location:
Dhaka, Bangladesh. Administrative area of Sher-e-Bangla Nagar.
Plot # F-4-C, Sher- E- Bangla Nagar, Dhaka (Agargaon Administrative Area).
Program:
Head Office for the Bangladesh Energy Regulatory Commission (BERC)
Office space and supporting functions such as multi-purpose halls,
cafes, lounges, library and prayer space.
Design Architect:
Hout Architecture Inc.
Key personal: Samer Hout Design Lead. Markiyan Levandivskyy.
Executive Architect (local):
Exceptions, Key Personal: Akter Ul Azim Project Lead. Shafkat Noor, Mithun Nath
Client:
Bangladesh Energy Regulatory Commission (BERC)