e Condos Tower
Residential and Mixed-Use

At 58-stories, E condos mark one of Toronto's fastest-growing neighbourhoods. The tower is perched on a podium, clad with perforated metal acting as a second skin and arranged in a dynamic pattern to echo the location's energy.

A plaza is created by setting the building back to form a space defined by retail and restaurants that spill their activities into the public area. Projected glass-clad volumes create canopies above this space and accommodate office space within. The projected volumes are offset and appear to be shifting to align with the geometry of Yonge Street and Eglinton Avenue.
The residential tower is wrapped in continuous balconies. A perforated metal system covers the building to function as a balcony guard and as second skin protecting from high-velocity wind, particularly at higher levels. A projected volume in the midsection accommodates public spaces within the building and signals its engagement with the city beyond.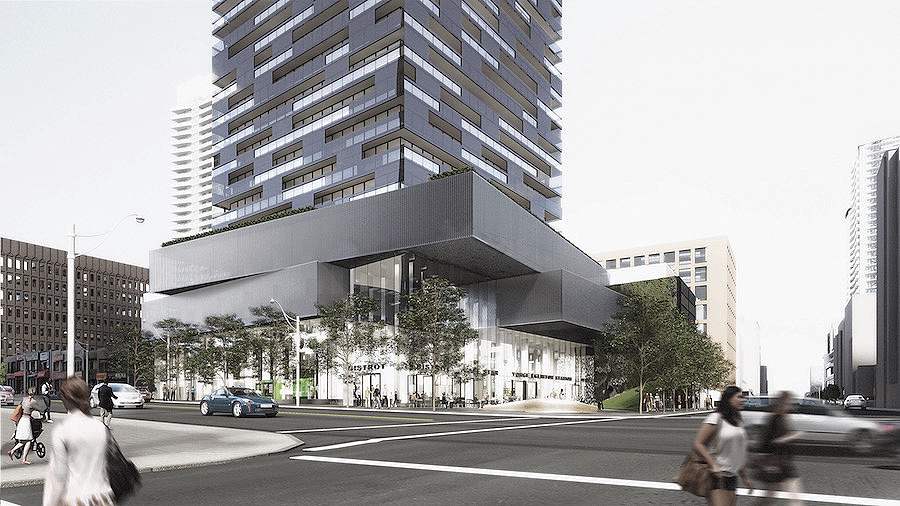 Location: Toronto, Canada
Type: Mixed-Use, Multi-Unit Residential
Size: 43,000 sq.m.
Client: RioCAN, Bazis, Metropia
Status: Construction completed 2017
Design: Samer Hout and Roy Varacalli
rVa Architect of record
.